Project Services & Solutions
LA International has been at the forefront of delivering innovative services and solutions to Government, Defence, Health, Education, Technology and Telecommunications sectors for over 35 years.

Today more than ever, we recognise that the increasing pace of technology, transformation and legislative change means that our clients require the very best expertise to support their programmes and IT agendas, whilst also demanding innovation and thought leadership in how services are delivered, challenging conventional industry standards and outdated delivery models.
LA International's Project Services & Solutions model provides our Clients with the capability and expertise they require on-demand, removing unnecessary latency in their internal processes and internal management overhead to almost zero, whilst mobilising the expertise they require across their full portfolio within days. This ensures key programmes and services are delivered on time, and to cost and scope.

Project Services & Solutions Portfolio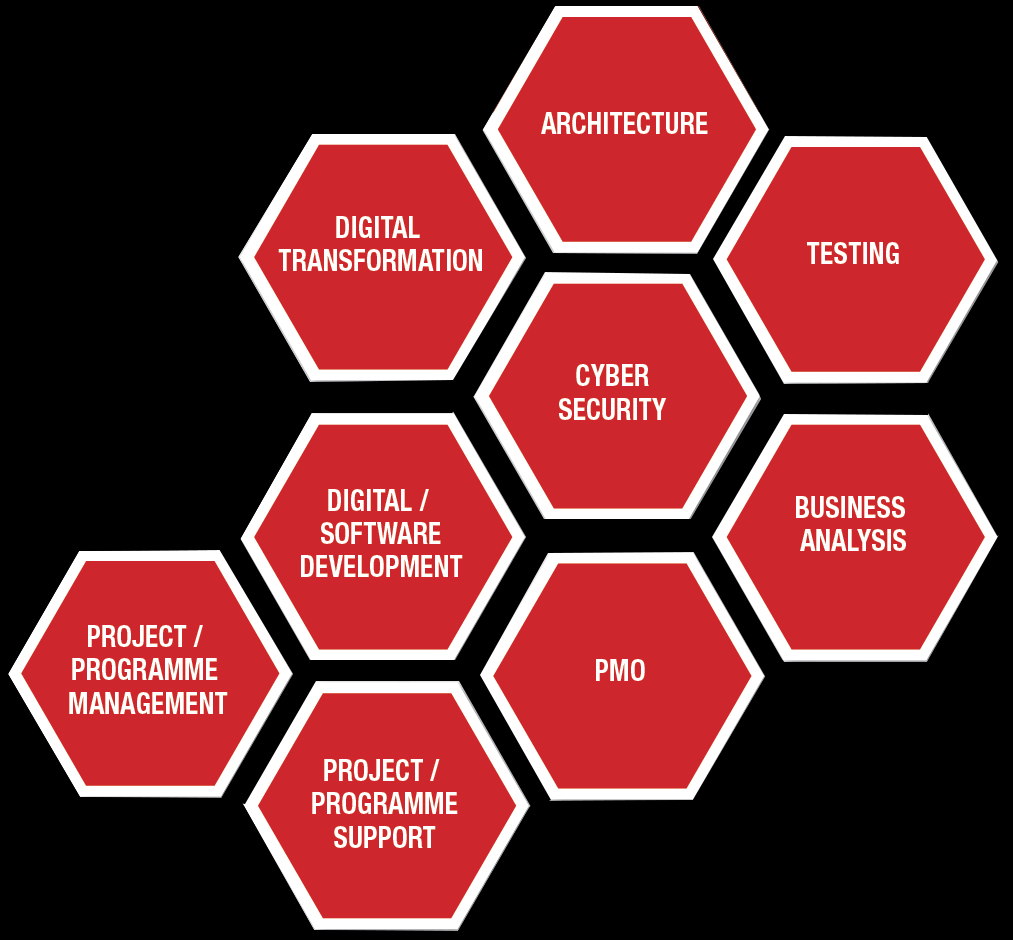 Design, Build, Evolve
Our Client Solutions Team work with our Clients to capture their business requirements and benefit objectives, building services where key features such as Governance, Reporting, Client-Side Support, Commercial Models, Risk Sharing, Service Transition/Exit can be configured specifically in accordance with the Clients requirement.
The result is a fully configured solution that provides each Client with the level of service maturity and retained control they require, underpinned by the ability to access the right expertise, quickly, cost-effectively and compliantly, regardless of whether the Client requires a small DevOps Team or an entire Transformation Programme.
LA International's Project Services & Solutions model is transformational, augmenting the breath of supply and competitive pricing offered by the contingent labour market, whilst also leveraging the increased appetite to share risk, absorb the resource management overhead and deliver meaningful outcomes usually associated with large scale outsourcing and consultancy, but without losing overall control of delivery.

Service Overview
As a minimum, each solution delivered by LA International provides:
Robust governance and reporting, tracking performance, outcomes, measuring through-life benefits and value.
Adjustable commercial models, ensuring continued alignment to changes in the Client's risk profile or financial requirements, optimising costs throughout.
Resource and capacity planning to drive agility, ensuring capability is provided on demand.
Configurable on/off-site supplier presence, providing integration with the Client leadership team, removing unnecessary oversight and allowing Client staff to focus on core delivery.
Fully a documented and structured approach to transferring knowledge to the Client on exit, ensure enduring value and full business continuity.
The outcome we deliver is a highly agile, client-centric service where capability can be engaged to deliver specific tasks or outcomes across a wide range of disciplines, with the inherent scalability to allow the Client to ramp up or ramp down instantaneously, removing the embedded costs often associated with alternative delivery models.
01 We build strong service governance and project controls, with enhanced reporting and full transparency.

02 Clients can choose the most suitable service payment model including T&M, capped T&M, deliverables or fixed-price, with service delivery underpinned by meaning service levels and KPI's.

03 Collaborative planning and forecasting de-risks changes in demand and workload, allowing core teams to focus on delivery.

04 The ability to ramp services up or down within a matter of days provides Clients with true agility and the confidence to make the right delivery decisions real-time.

05 We build services to deliver the Client's outcome, maintaining a full appreciation for their appetite to share risk, operational responsibility and project control.

06 We create an exit management plan to ensure knowledge, processes, tools, systems and IP is handed over smoothly and in accordance with the Client's future service requirements.
Benefits
LA International's Project Services & Solutions delivery model changes the paradigm for organisations that need services and expertise quickly and cost-effectively.
Benefits include:
-Service Catalogue approach to aligning service requirements and expectations
Capacity-managed Bench of experts ready for rapid deployment
SLA-driven service that allows instant ramp up / down, fully consumption-based
Structured mobilisation approach that delivers results from day one
Fully customisable services to reflect Client appetite for control, budget and risk
Reach back into leading SME's and Thought Leaders
Transparent Exit Management plan for knowledge transfer and service handover
Easy to procure through multiple Crown Commercial Service Frameworks
Clients can embark upon new projects and programmes with the confidence that services and expertise can be engaged quickly, enabling them to scale at speed to meet surges in demand or peaks in workload. LA International's Project Services is THE solution for Project Delivery, Mission Critical Support and Business as Usual tasks.
For further information contact our Client Solutions Team on 01782 203040
or mailto: project-services@lainternational.com