Come and work for us!
We are dynamic, forward thinking, people-focussed and we are on the move..
Who We Are
LA International is a multi-award winning, industry leading, Digital Technology Resourcing and Project Solutions organisation.
We are deeply passionate about what we do, innovating and expanding every year over the last 40 years to bring us to where we are now, a global £300m plus turnover organisation supplying services across multiple continents working with some of the largest and most recognised global brands across the IT, Technology, Telecoms, , Aerospace, Defence, Government and National Security sectors. Recent national and international accolades include:
­ Three-times Winner of Best UK IT Recruitment Consultancy
­ Winner of the Best UK Public Sector Agency
­ Winner of the Hot 100 – No1 in the UK IT Industry for Employee Profitability
­ Double Winner of The Queens Award for International Trade
Our business is people, collectively "our" people have worked with natural synergy to achieve remarkable goals. We are proud to have some of the most talented and exceptional employees anywhere in the industry, people that have been invested in our journey over the last four decades in becoming one of the most respected and successful companies in our industry.
But our journey is far from over. There has never been a more exciting time to be part of the LA International family as we continue to implement new services, drive innovation and set the benchmark for industry best-practice.
We are seeking like-minded people with ambition, passion, creativity and above all, the drive to want succeed and be part of something exceptional.
What We Offer
It is important that our employees feel valued, respected, supported and remunerated for the work that they do and so working at LA International comes with a range of career, financial and flexible benefits that are central to our values.


Excellent Financial Packages
We offer excellent remuneration, including basic salaries and an outstanding uncapped commission structure.

Employee Development Pathways
We offer Development Pathways for each employee to set the right career goals, with realistic timeframes and achievable milestones.

Company Car Scheme
We offer an excellent company car scheme including BMW's, Audi's, Mercedes, Tesla, Porsche, or a car allowance as an alternative option.

Holiday Allowance
We provide a generous holiday allowance that increases with tenure.

Remote Working
We offer remote working to allow staff to work from home.

Employee Assistance Programme
We provide our staff with access to a fully supported Employee Assistance Programme for the benefit of personal wellbeing.

Flexible Working Day
We have a set of core business hours, but with the freedom to start and end the day at a time that suits.

Cycle to Work Scheme
We offer a cycle to work scheme to reduce the cost of purchasing a new bicycle.

External Training and Support
We offer an industry-Leading, Professional Development and Training Programme for all staff at all levels.

Pension Scheme
We offer an employer funded pension scheme.




Equality, Diversity and Corporate
Social Responsibility
Working hand in hand with the local community we are fully committed to employee Equality and Diversity.




Additional Benefits
We offer a range of additional benefits including Private Healthcare and a range of exciting Sales Incentives and Social Events for all staff.
LA International Academy
LA International Graduate Academy is the recruitment industries leading Graduate Academy which, over the last decade has produced some of the most respected and successful IT Recruitment Professionals anywhere in the UK.
We are recruiting our next generation of IT Recruitment Professionals and seeking talented, ambitious Graduates to join our growing team of successful Graduate Resource Consultants having progressed through your own personalized development plan specific to your role and ambitions. Mentored by some of the most successful Recruitment Professionals in the industry, you will enjoy the freedom to grow and implement your new skillsets, expand your knowledge and surpass your goals to become a successful member of the LA Team. Your growth and development never stops!

But don't just take our word for it, listen to what some of our recent Graduates had to say about their journey into the recruitment industry:

Maddison Whitfield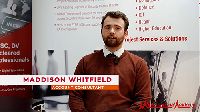 "Joining as a Resource Graduate involved finding the correct candidates and getting qualified CV's to our managers. I have been promoted to Account Consultant and now looking over the full lifecycle of the candidate recruitment process. The reason I joined LA International was because I wanted to hit goals, achieve targets and be rewarded for them, which I have been and will continue to do so in the future. I really enjoy the responsibility that's been given to me.."
Amy Rowley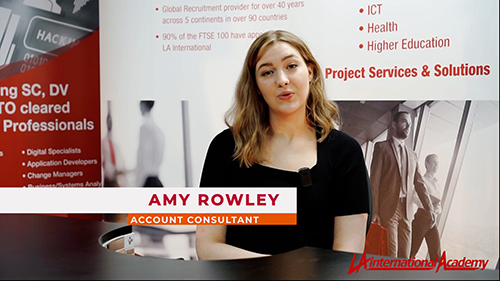 "I joined the LA International Academy six months ago and have already been promoted to an Account Consultant position. I'm really happy that I found LA International and don't think I could have found somewhere that was more supportive of my goals and what I wanted to do together with the sense of family and support. The Graduates in the Academy are an amazing group of people and have become friends in such a short amount of time.."

Aamish Ahmed "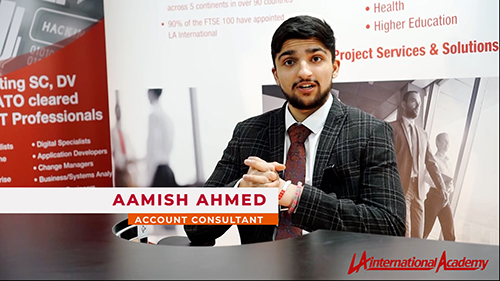 I have been here for a couple of months and already have my first promotion. The main reason I joined LA International was the money and potential that can be earned At the interview, I was able to openly ask what does this progression look like and what should I really expect? And that's when really explained the progression step by step what you're expected to make at each step of your journey.."


In Video
Graduates in our Academy share their experiences and why they chose LA International?






















Reach out to us today in confidence by email to: careers@lainternational.com, or apply to any of the jobs found below and follow the easy-apply process.