Work for Us
Do you have Recruitment Experience or any IT or Engineering Technical related Sales experience? Or maybe you are a Graduate?
Recruitment is one of the fastest growing professional sectors and LA international is equally one of the fastest growing and highly regarded award winning companies that puts people at the heart of our development programme providing clear career progression. In order to continue our year on year growth, we have a number of exciting opportunities for experienced Recruiters, Account Managers and high quality sales professionals including:
Career Opportunities

We are on track to break through £200 Million Turnover in this financial year and on course to exceed £250 Million in the next two years. In order to achieve this growth, we have a number of exciting opportunities for highly motivated Graduates as well as individuals with experience in:
IT or Professional Services Recruitment
Technical Sales
Business to Business Sales
We provide our staff with an open platform for career development, support, latest technologies and training - all leading to a high OTE, overseas travel incentives, pension, private healthcare and a superb team working environment.
As you would expect from a leading International Recruitment Company, we pride ourselves in only recruiting the very best for our internal staff. Whether a new member of our Graduate Programme or an experienced Sales/Recruitment professional, our internal training academy provides a structured and incremental career path from entry level positions to Senior Management roles that continually produces high achievers.

Our new staff are provided with high quality internal training and industry leading external training. This, together with mentoring by experienced members of staff ensures that each member of staff gains a holistic view of their chosen market. Adding this to a fantastic growth and development ethos, a great working environment and industry leading financial rewards & benefits produces the formula for success.


Graduate Recruitment at LA International
LA International is an international recruitment company delivering IT and Engineering recruitment services to an impressive client base across the UK and mainland Europe. Current Clients include some of the most diverse and innovative organisations such as Rolls Royce, DHL, Hewlett Packard, Home Office, Ministry of Defence, NHS and many more.
Our Staff are best-in-class. Our growth and expansion has been achieved by a highly motivated, committed Sales and Management Team, rewarded by excellent salaries, commission structures.
Why a role within the Recruitment industry is a great career option.
You may have Graduated recently and be looking to establish your career, or have Graduated a few years ago and are now looking for a different career direction that will utilise the commercial experience you have gained and provide you with greater opportunities.
With either background, Recruitment Sales could be right for you.
LA International offers a great reward package including:
Competitive Salary & Commission
Sales Incentives
European Trips
Healthcare
Pension Scheme
Professional Support and Training
Company Car Scheme -Starting with BMW 1 Series Sports Hatch

For more opportunities including senior positions within LA International, please browse our internal jobs posted on this page to the right, or to search our latest contract or permanent jobs, head on over to our job search page.

Professional Support and Training

Established almost 15 years ago, LA International's Graduate Training Programme has expanded over the years and today comprises of 75 modules which touch all aspects of IT and Engineering recruitment. The 2 year programme encompasses a one to one mentoring programme formalised from 30 years of professional recruitment experience, combined and enhanced by externally sourced training from Industry leads and Governing bodies.
Broadly comprising: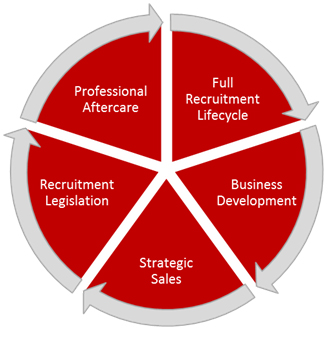 What our People Say



" I started in my role at LA International by supporting one the Senior Account Managers in the Ministry of Defence Division. Certain aspects of the role are very challenging which I like, but the training programme is very good and I have been given a lot of on-going support to assist with my career development. If you are resilient and motivated, it is possible to progress quickly and earn very good money."






"

Recruitment sales requires a large amount of stamina, commitment and dedication. Since joining, LA International has provided on-going training in the form of interactive IT training; workshops etc., as well as one to one support and mentoring. Together with this platform and team spirit, in a short time I am an Account Manager, earning more than the industry standard and driving a top of the range car."


" When I started with LA International I was working within the European Division and received extensive training and quickly progressed to Account Management with direct responsibility for a Resource Consultant. I enjoy my role because it's challenging and stimulating and European travel provides me with the opportunity to communicate and interact with Clients from various countries. "




Reach out to us today careers@lainternational.com, upload your CV using the 'Submit Your CV' button below or apply to one of our opportunities listed on this page, using your LinkedIn profile.
Submit Your CV
Your Job search: 22 results
Job Title:

Salary:

£14000 - £17000 per annum + depending on experience

Location:

West Midlands
Job Title:

Salary:

£20000 - £30000 per annum + plus commission

Location:

West Midlands
Job Title:

Salary:

£35000 - £80000 per annum + incl. comm/Sales benefits

Location:

West Midlands